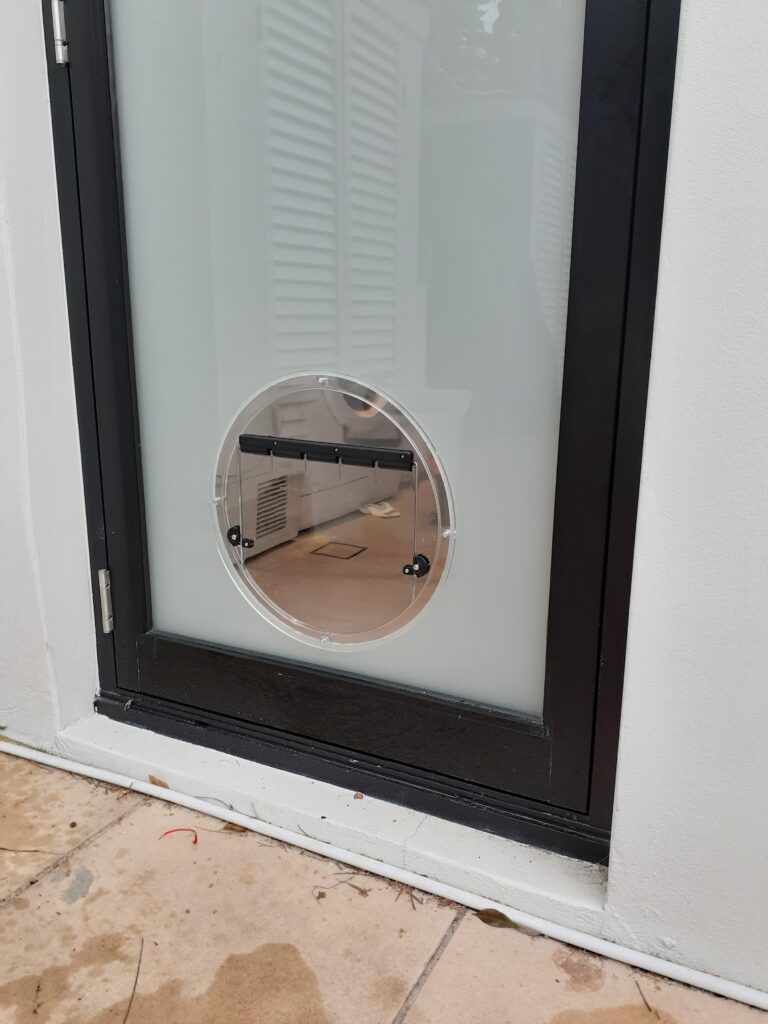 Accord Glass has experienced a surge in demand for the supply and installation of Dog Doors, since March 2020 and the start of Covid 19 Lock Down.
Dog and Cat Doors can be installed in existing panels of Laminate
Safety Glass. Our skilled technicians can advise on the best location for your cat or dog door, and cut the hole, clean up and install the Door in under two hours.
Unfortunately Toughened Safety Glass cannot be cut. If your glass is toughened, the only solution is to replace the entire panel with a new panel of Toughened Glass  with a pre cut hole.
We are happy to give free, no obligation quotes to do this work.
HOW CAN I TELL IF MY GLASS IS TOUGHENED OR LAMINATED?
Usually (but not always) Toughened Glass will have a small stamp on the glass in one of the bottom corners of the Glass.
If there is no Stamp, a Skilled Glazier can tell if the glass is toughened by tapping the glass (sound) .
WHAT DOG or CAT DOOR SHOULD I USE?
We recommend the New Zealand made Transcat Cat and Dog Doors.
They are a simple design, made from clear polycarbonate, and will suit any interior design.
The Transcat Doors will give many years of low maintenance service.
Accord Glass stocks Transcat Doors, however we are happy to install your own Door.